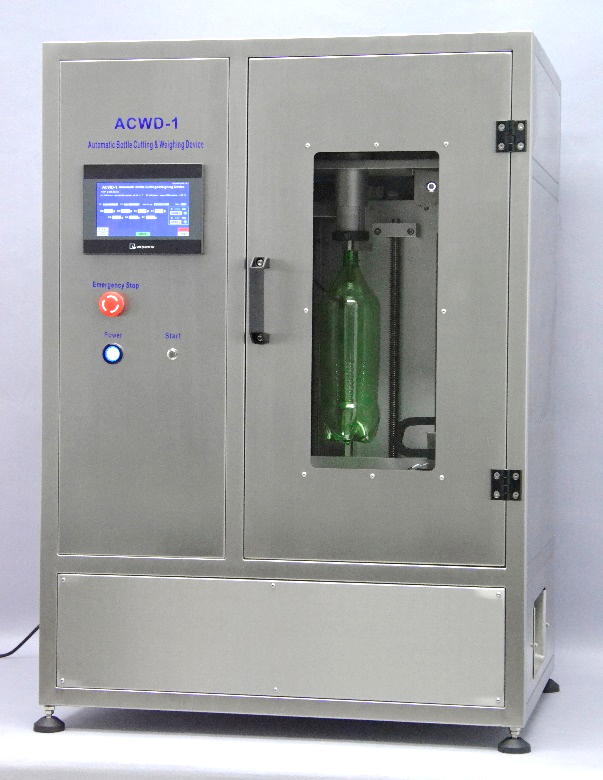 ACWD-1
Automatic Bottle Cutting & Weighing Device
The AT2E ACWD-1 Automatic Bottle Cutting & Weighing Device offers an automated and cost saving way for cutting containers for section weight analysis. Automatic cutting and weighing, automated process controlling, ensures the cutting accuracy and repeatability, increases the analyzing accuracy, provides a better solution for bottle section weight analysis and more reliable data. With ACWD-1, a PET bottle could be cut up to 5 predetermined sections and auto weighing to each section.
Features:
Full automatic control, auto positioning for accurate cutting
Automatic section cutting and weighing
Data could be reviewed on screen or through software
Motor control, hot wire cutting
Technical Specifications:
Sample range: Height up to 360 mm
Diameter:  30 – 115 mm
Mains supply: 220 VAC / 50Hz
Weighing range: 0 – 500 g
Weighing resolution: 0.01 g
Motor speed: 5 – 50 rpm
Air supply: 5 – 8 bar
Data interface: RS232
Overall size: 700 (L) x 600 (W) x 1000 (H) mm
Net weight: 80 kg
Data analyze and management software.