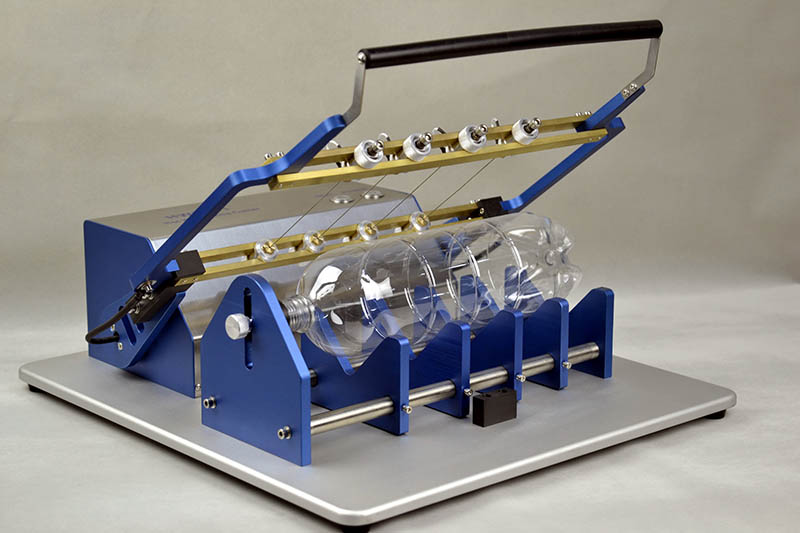 HWBC-1
Hot Wire Bottle Cutter
The HWBC-1 Hot Wire Bottle Cutter offers an easy and cost saving way for cutting containers for section weight analysis. A clean section without deformation will be obtained by a quick cutting of bottles through heated hot wires. A precision and repeatable cutting task is easy to achieve and it's necessary for a proper analysis.With HWBC-1, a PET bottle could be cut up to 5 predetermined sections, each section will be checked to ensure that it conforms to the exact weight assigned.
Attributes:
Durable design & Easy to operate & Excellent repeatability
Bottle cut with accuracy up to 5 sections cut
Cutting up to 2 L bottle
Universal finish support, compatible for the bottle finish diameters from 17 to 40 mm
Adjustable supports for bottles during the cutting process
Graduated rulers allow accurate positioning of wires
Safety cover design which exhausts gases out of face of the operator (optional)
Rapid warming the wires
Dual heating mode saves energy and extends the life of wires
Adjustable heating power allows operator to select the correct power according to different bottle and prolong the life time of the wire.
Technical Specifications:
Sample range: Maximum height 360 mm
Maximum diameter 110 mm
Power supply: 220 VAC / 50 Hz
Dimension: 470 (L) x 510 (W) x 350 (H) mm
Net weight: 18 KG