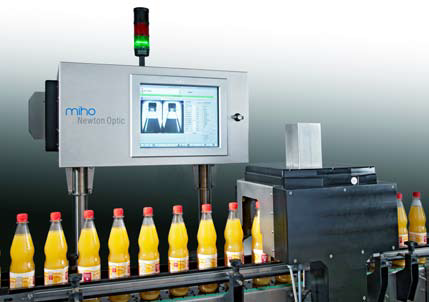 Miho Newton Optics 2
Fill Level and Cap Control miho Newton Optics 2
To measure the fill level for any underfilling and overfilling and to inspect the cap of bottles using the optical method.
State-of-the-art camera and lighting technology that uses multi-optical axes (offset by 90°/ 270° coverage) and variable lighting.
Up to seven images per bottle can be created and evaluated according to many different criteria by the image processing system miho VIDIOS®.
The VIDIOS-License is valid independently of the number of container and product variants, also when adding further bottle types later.
The inspection head can be adjusted by using the handwheel height adjustment. The point of installation is normally at the outfeed of the filler.
Fill level inspection: inspects the fill level for any underfilling and overfilling in transparent, cloudy/non-transparent and foaming liquids, provided that the fill level is not obscured by a label. Lighting through the reflected and/or transmitted light method.
Cap: inspection of the cap for exact fit (slanted position/ depth screwed on) and bullnoses. Inspection for damage to the safety ring in metal and plastic screw caps.
Wrap-around label: checks for the presence and the position of a wrap-around label for PET bottles
Expiry date (on the side): checks for the presence of an expiry date on the side of the cap . Here, the expiry date must be on the side facing the camera
Detection of nitrogen fog directly after filler and capper
A series fault detection is implemented.
Not suitable for opaque containers and for bottles with lables in the fill level area.
No photo is available for this product