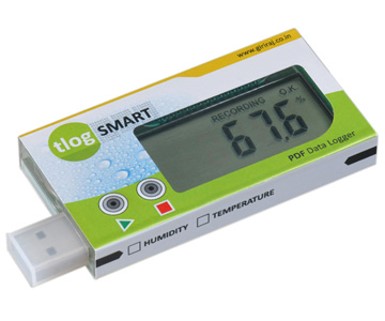 tlog Smart TL-784
USB Temp. + RH Logger with LCD Display
tlog SMART +PDF are most accurate; intelligent & economical loggers specially designed to retrieve recorded in-transit temperature + relative humidity readings without any need of proprietary software, PC interface cable or reader. Unit can easily slide into your existing packaging for monitoring and recording in-transit temperature + relative humidity conditions of pharmaceuticals, vaccines, biological products, chemicals, dairy products, agriculture, horticulture and many other sensitive shipments.
Sleek design with robust casing has an advantage of placing it easily with your products for monitoring actual temperature + relative humidity condition. Factory programming as per user requirements enable quick start anywhere without using PC/Laptop. Multi-function LCD display indicates Current Reading, Minimum | Maximum | Average values, Logger & Alarm status.
TL-784 can monitor and record in-transit temperature + relative humidity condition of shipment for up to One Year with its huge internal memory capacity of 32000 readings & long battery life. Integrated A-type USB port for an independent PC interface at the receiver end. No need of any additional hardware reader or cable to connect logger & software to download recorded readings from it. Unit will automatically create a tamper-proof secured & unalterable Abode PDF report of all recorded in-transit readings.
No video is available for this product