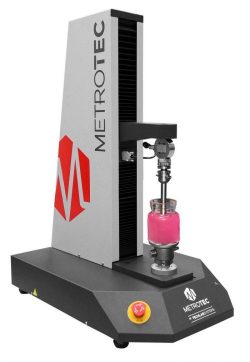 FTM-50
Food Texture Analyzer
The Food Texture Analyzer (Texturometer) FTM-50 is a cost-effective and easy-to-use solution for rapid testing, detailed texture analysis in applications up to 1 kN (225 lbf).

The Texturometer uses interchangeable load cells as a force measurement element.

Cyclic tensile and compression tests with load and extension limits are characteristic of standard equipment.

The equipment can be adjusted with a series of jaws, fixings and accessories specifically designed for the food industry, as well as for general applications such as evaluation of the resistance and integrity of the food packaging.

The FTM-50 Texturometer is characterized by its innovative design that maximizes the workspace and simplifies both its operation and maintenance. Its large workspace allows to accommodate a wide range of test samples of large sizes and this can be increased with additional work platforms for special applications.

The results can be managed to produce detailed analytical reports with the possibility of integrating them in Windows and exporting them to Windows base programs such as Excel …
Large working area of 150 mm deep, capable of accommodating large samples

Precision load cells

Intuitive operation interface

Servo-motor control system

Speed range from 0.01 to 1,000 mm / minute

Control in closed loop of load

Multilingual election options

Wide range of choice of grips, probes, fixings and accessories for texture tests
Characteristics:
Force capacity: 1 kN

Range Test Speeds : 0.01 to 1.000 mm / min

Maximum return speed: 1,000 mm / min.

Speed ​​accuracy: +/- 0.2% speed selected (between 2 and 100% speed max.)

Maximum crosshead travel: 500 mm *

Throat depth: 150 mm

Minimum Force Resolution: 0.0001N (load cell specific)

Accuracy Load Cell: <0.5% between 1% and 100% FSD

Resolution of the Extension: <0.15 microns

Speed ​​Sampling Data Strength (internal): 30,000 S / second

Load Measurement System: EN ISO 7500: 2004 Class 0.5 ASTM E4

Software: METROTEST

Electrical Supply: 230Vac ± 10%, 50-60 Hz

Maximum power: 400 VA

Weight: 64 kg

Working temperatures: 5 ° to 35 ° C

Computerized Texturometer FTM-50

All-in-One Touchscreen 22 "PC

MetroTEST Software (With TPA Texture Profile Analysis)
Metrotec has a wide range of test tools such as: